About Veryfront
Learn about Veryfront and what you can achieve with it.
What Is Veryfront?
Veryfront is an all-in-one web application development platform.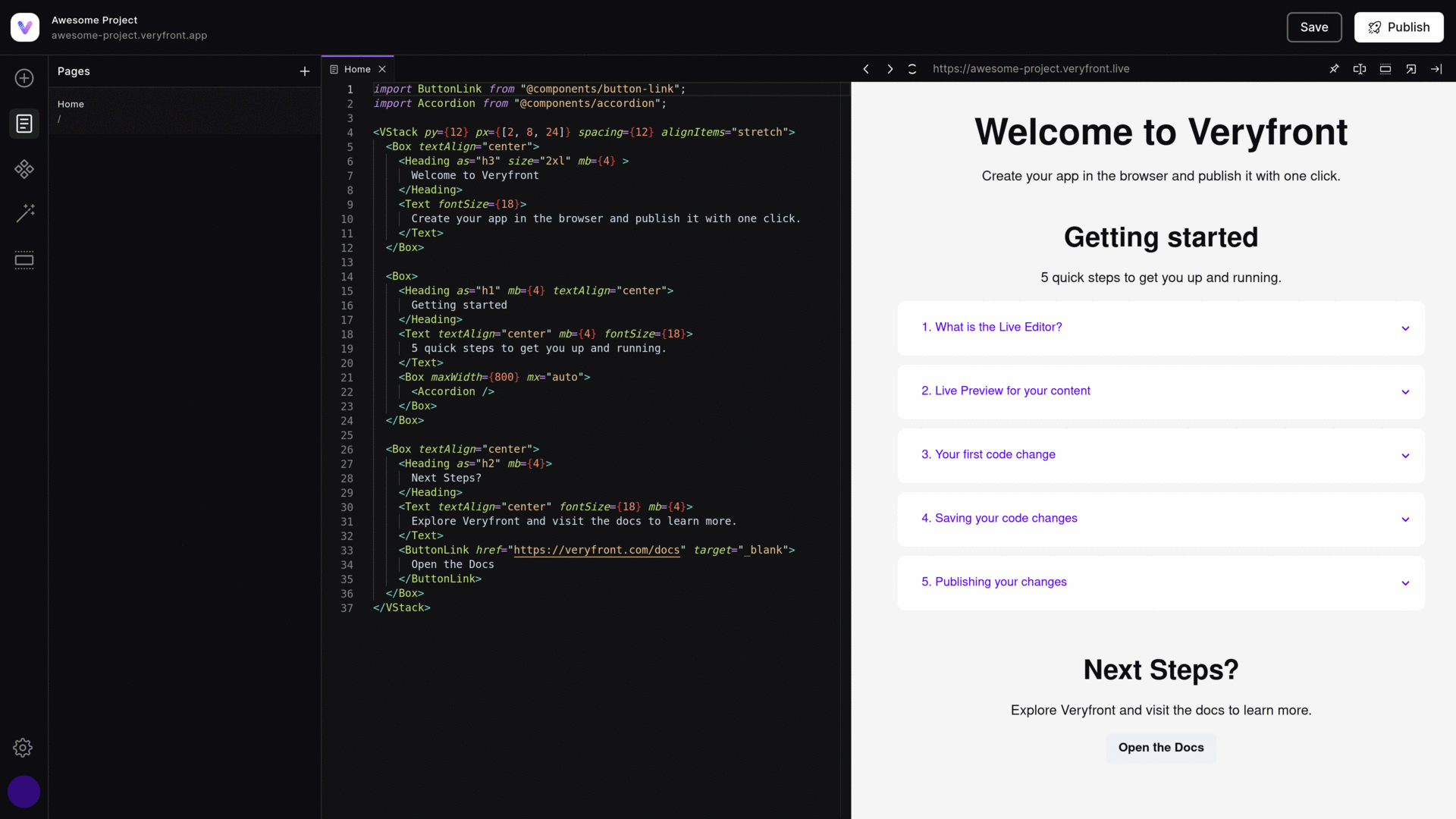 At its core, Veryfront enables:
fast development feedback cycles
automated deployment and cloud infrastructure management
teams of all sizes to deliver robust apps that go beyond basic functionality, needing less time, money, and workforce
What Does Working With Veryfront Look Like?
Veryfront streamlines how you and your team build and run apps:
Build

Code mission-critical apps in the browser together with your team
Enrich your app with various pre-built components and plugins

Preview

Preview changes to your app as you make them
Share live previews with colleagues and stakeholders to get feedback in real-time

Publish

Deploy and go live with the click of a button
Never worry about DevOps and infrastructure management
Why Choose Veryfront?
Become Productive Straight Away
At the beginning of a project, you evaluate and select the tools to use and set up your application boilerplate and development environment. Unfortunately, this is immensely time-consuming, and you often don't see if the tech stack is working well together until the middle of the project.
Veryfront comes with a ready-to-use front-end stack and development environment that you can start working with as soon as you log in. Ultimately, you can be sure that all available plugins and integrations will always play nicely together.
Go Live Anytime
Cloud infrastructure management and CI/CD have their place in modern development workflows but are too complicated and time-consuming for many web app projects. After all, you need to update apps quickly, no matter how large the change.
With Veryfront, you can take a NoOps approach, which means the platform manages and automates the deployment toolchain for you. As a result, you can deploy changes quickly and regularly, no matter how small or big. All it takes is a simple click of a button.
Scale Without Limits
You've probably tried a few no-code platforms for their speed and simplicity. But while they're great for starters, these solutions lack flexibility and fall short when your app needs to scale. Veryfront introduces the "less-code approach", which combines the flexibility of custom development with the ease of use of no-code solutions.
Who Is Veryfront For?
We designed Veryfront specifically to meet the needs of professional developers and modern development teams of all sizes.
But we've also ensured that any tech-savvy person from design, marketing, or operations can get up and running quickly.
What technologies is Veryfront built on?
Veryfront is an opinionated application development framework built on top of React, MDX, and Next.js. Let's take a look at each of them:
React
React is the industry-standard JavaScript library for developing interactive web applications.
For us, choosing React was a no-brainer: it's powerful and easy to learn. Even major companies like Facebook, Netflix, Airbnb, and Uber rely on it to create dynamic, reusable, and maintainable user interfaces. We also opted for JSX, which allows for a component-driven approach and the integration of markup and logic in one place.
MDX
MDX combines Markdown's ease of use with the power of JSX. It lets you augment your content with dynamic React components like interactive charts and forms.
You'll also use MDX when working with Veryfront, and we're sure you'll enjoy its simplicity!
Next.js
Next.js is an open-source web development framework built on Node.js, allowing you to develop full-stack React-based web applications. We chose Next.js partly because it enables high-performance web apps through a smart combination of server-side rendering and client-side routing. And good performance is key to a great user experience and SEO.
What can you build with Veryfront?
Veryfront is highly hackable, so you can create anything, be it a content-heavy website or a highly dynamic app. Check out our project templates that you can use to kick-start your projects:
Landing Page
Online Store
Survey
Next Steps
Do you want to learn more about Veryfront, or are you curious to try it out? We recommend the following user guides that will get you started in no time: